Connection Issues - Firewalls (Mac Included)
Firewalls
Disabling/Enabling
Occasionally a Firewall can prevent users from connecting to Toribash servers. Here are a few solutions to that problem.
Disabling a Microsoft Firewall
1) Open Windows Firewall by clicking the Start button Picture of the Start button, clicking Control Panel, clicking Security, and then clicking Windows Firewall.
2) Click Turn Windows Firewall on or off. Administrator permission required If you are prompted for an administrator password or confirmation, type the password or provide confirmation.
3) Click Off (not recommended), and then click OK.
Disabling a Comodo Firewall
1) Right click on the system tray icon keeping the CIS interface in Compact View
2) Move the mouse cursor over 'Firewall'
3) Choose 'Enabled or Disabled' as per your choice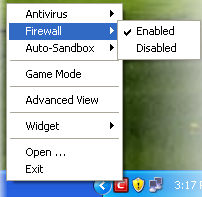 Disabling a Mac Firewall
1) Open System Preferences
2) Click on Security & Privacy
3) Click Firewall
4) Toggle the Firewall on or off