You may be the most fearsome warring clan in all of Toribash, you may have the most legendary players within your roster, you may even have stood the test of time and still be alive after many have died... but are you the best? Throw out all you know of previous clan events, this is the ultimate test of your skill, determination and sanity. Will you carve out your name in legend or will you be crushed under the might of those who rise to the occasion? Risk it all in the first ever all or nothing tournament where you either win or you
die
.
BRACKET IS SINGLE ELIMINATION - ALL OR NOTHING
Sounds like too much to ask? Take a look at the prizes on offer...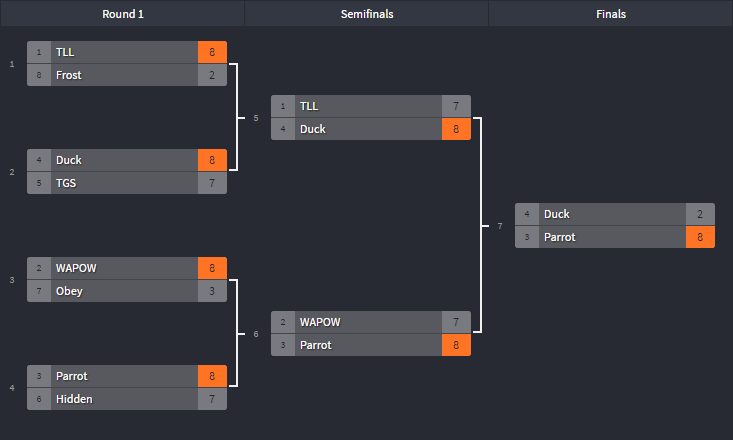 [I][B]CBR IS OVER CHUMPS, GJ PARROT
Only
Official
clans can participate.
All clans that are knocked out of the bracket
will die
.
Accounts must have been part of the entering clan since at least a day before this post.
As with Clan League, no one player may play more than 3 games per round, although there is no other restriction (such as only twice per category).
You must use the Clan War system to fight against your opponent in a
best of 15
matches. All matches must
only
use mods from the mod list. You must use at least one mod from each category once per round. The
loser's clan
after each game will always pick the next mod to be played, you can play 13 games of grappling if each loser's clan chooses to do so as long as the next 2 are striking/kicking.
Failure to use at least one mod from each category will result in a null result for your bout, and you'll have to fight your opponent again starting from 0-0.
All wars must be completed
before
the deadline. Clans should
record all attempts
to arrange a mutual agreement where the war will take place as any disputes regarding arrangements will be decided with this evidence in mind.
If both clans are no-shows, they will both die.
Striking:
lenshu3ng.tbm
murden_5.tbm
Kicking:
kickbox.tbm
erthtkv2.tbm
Grappling:
aikidobigdojo.tbm
rb_greykido.tbm
judofrac.tbm
If you are still interested in signing your official clan up, you may copy this format and sign-up through this thread.
Leaders interested in entering their clans should post here in this thread (using the application format below). This does not guarantee your position in the event! You will be required to get all active (less than a month since last activity) leaders to agree to join, as well as putting up a poll in your clan's board (MAKE SURE TO TICK 'MAKE VOTES PUBLIC') asking whether your clan really wants to risk itself in the event. At the end of signups, given a majority vote, your clan will be entered into the event.

AFTER BEING ENTERED BY US, YOU WILL NO LONGER BE ABLE TO LEAVE. ANY ATTEMPT TO LEAVE OR NOT PLAY YOUR MATCHES WILL BE TREATED AS A LOSS AND YOUR CLAN WILL BE KILLED.
Winner:
All other Participants: