<cocacobra> hes like an neckbeardling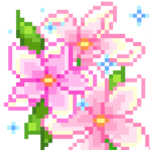 7th Dan Black Belt
Join Date: Sep 2014
Posts: 1,691

[WIP] Lenshu/Acroshu
yo we gonna bang this bitch the fuck out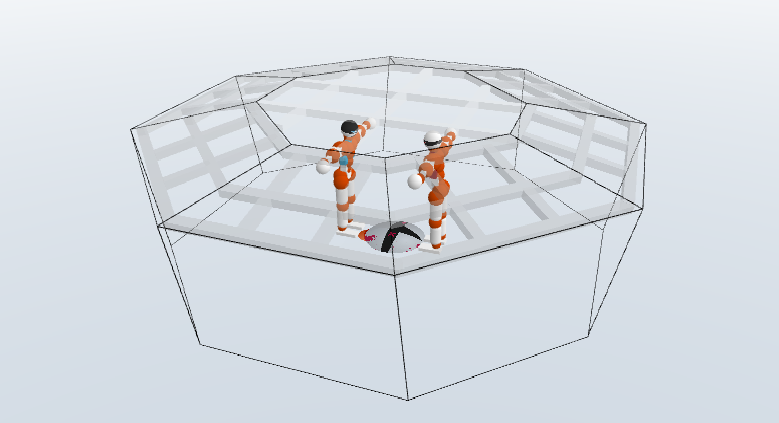 i recently decided to go back to my apparently never finished mod and update it one more time. if you're not familiar with acroshu, or poushu, or w/e, here's a rundown
tl;dr

►
Code:
- Altered Toris - Altered density distribution - Altered point distribution - Lattice above - Altered dojo -> "box" - Limited DQ (none on hands, feet, wrists, ankles, triceps, legs, elbows, knees) - Bouncier
Feature List

►



The mod is a sort of spiritual successor to lenshu, with a lot of things revamped to make gameplay both more fun and a bigger contest of skill.


Gamerules

►
Code:
gamerule matchframes 480 turnframes 15,15,30,30,30,30,30,30,30,30,30,30,30,30,30,30,30 flags 11 dismemberment 1 fracture 1 disqualification 1 dqtimeout 40 dqflag 0 dismemberthreshold 2000 fracturethreshold 275 pointthreshold 0 dojotype 0 dojosize 0 engagedistance 200 engageheight 0 engagerotation 0 engagespace 0 engageplayerpos engageplayerrot 0,0,0,0,0,0 damage 0 gravity 0.00 0.00 -92.00 sumo 1 reactiontime 16 drawwinner 0 maxcontacts 8
The turnframes are lenshu-standard, with a bit of a twist at the beginning. The first two turns are 15 frames, allowing you to counter your opponents opener far better than without. This takes a lot of the bite out of traditional lenshu cheeses.
Flag 11 = No Grab
DQ timeout is super generous at 40 frames. It's nearly impossible to DQ in this mod if you're not awful, especially since some bodyparts have DQ disabled (hands, feet, wrists, ankles, arms, legs, elbows, knees).
The dismember threshold doesn't really matter anyway. Only one joint can be dismembered. Decaps are an insta-win, with a dm threshold of 290.
Fracs aren't in traditional lenshu, but I thought they'd replace dms very well. All fracs are pretty well earned in this mod, and it doesn't feel unfair when it happens. Threshold = 275
Engage distance is lenshu-standard.
Gravity is a bit strange in this mod because of the way I set everything up. -92 translates to around -30. Every part of the toris have some thrust applied to them that subtly changes how they move.
RT = 16, pretty standard.
Dojo

►


Dojo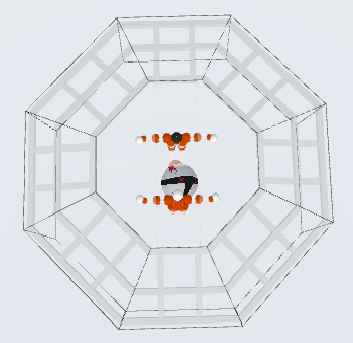 - The traditional dojo has been subbed out for an 8 sided "cage" with an inclined ceiling
- Underneath the ceiling is a lattice, with the outside arranged in a radial manner

The whole dojo is designed to push gameplay back to the middle. The bottom outer walls are inclined inwards, so when you kick off of them you're more likely to go up and towards the center. The upper outer ceiling is inclined downwards so you can kick off it and go towards the center and back to the ground. The ceiling in the center of the dojo is level. I'm actually super satisfied with the shape of the dojo.

The lattice is there to aid in aerial movements, providing an alternative to moving on the ground. As opposed to a simple ceiling, which requires you to be extraordinarily close to it in order to get a good angle off of it and move in a direction that isn't down, the lattice has gaps which allow you to kick a surface perpendicular to the ground, getting a better angle. It's also convenient for swinging off of and quickly altering your trajectory in an unpredictable way. I'm mostly satisfied with the lattice, although depending on feedback I may want to lower it a titch.
Toris

►


- Revamped point distribution
- Toris ook slightly different, to accentuate key targets
- Altered density distribution
- Strength, velocity, and range are altered
- Decap is insta-win (shoutout to odlov)
- hands, feet, wrists, ankles, triceps, legs, elbows, knees all don't dq at all


Strength, velocity, and range have been touched up a little bit. Most work that was done to them was for the sake of evening out the limbs although some things, notably toning down the velocity and strength of the wrists, were intended to reduce gameplay cheeses.
Decaps are insta-win. This is a mechanic discovered by Odlov utilizing a bug. This is: 1.) super cool, 2.) pretty fitting. Most decaps are pretty well deserved (although if you try a little bit it's pretty easy to self-inflict decaps), so the mechanic isn't super annoying or intrusive. It just gives decap replays a bit of an extra punch, in that the match ends as you get the killing blow.
DQ is pretty generous in this mod, and unless pinned into a really tight spot, it's pretty easy to save yourself from D. The outer bits of limbs (hands, feet, wrists, ankles, triceps, legs, elbows, knees) don't DQ at all. Instead of having to only pivot using your hands or feet, which isn't very practical, you have a wealth of options.
possible bug : spasming if you hit something just right. you'll see it in your ghost just relax something, or something