The Sunlandic twins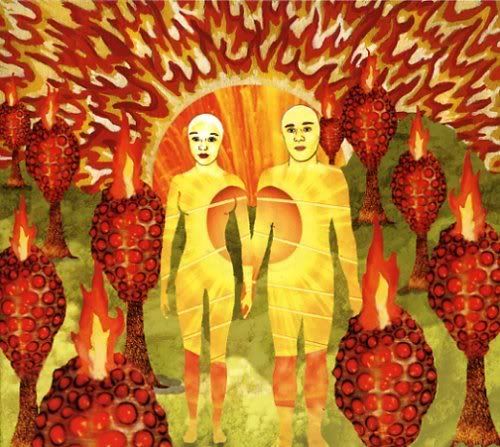 heres youtubes of the songs!
this one has weird video. ignore it. its weird
this one was a hit so it has a sweet video
I could only find live versions of this one. soz.
this one is of good quality audio
this one is a really short song, but whatever.
I could only find this one live, which is weird since its really sweet
I could not find the song "knight rider" anywhere. You'll have to get the album to hear it I guess.

heres the next one
I can't find anything for death of a shade of hue either. Its not that great though, so no big loss.
this one has a little bit of sound effects in it in some parts but who cares.
this one is a shitty live recording, but its better than nothing.
heres the last one
I like the first 75% of the album the best.
heres the song list.
1. "Requiem for O.M.M.2" – 2:19
2. "I Was Never Young" – 3:30
3. "Wraith Pinned to the Mist (and Other Games)" – 4:15
4. "Forecast Fascist Future" – 4:22
5. "So Begins Our Alabee" – 4:15
6. "Our Spring Is Sweet Not Fleeting" – 1:02
7. "The Party's Crashing Us" – 4:53
8. "Knight Rider" – 1:06
9. "I Was a Landscape in Your Dream" – 3:05
10. "Death of a Shade of a Hue" – 2:54
11. "Oslo in the Summertime" – 3:21
12. "October Is Eternal" – 3:58
13. "The Repudiated Immortals" – 2:18